Fetal well-being depends on an adequate supply of oxygen from maternal circulation. A number of conditions can compromise oxygen delivery to the fetus inside the womb. Lack of oxygen can negatively affect the fetus' health condition after birth in both the short and long term.
If intrapartum hypoxia is severe and prolonged, it can result in asphyxia, which is a metabolic acidosis caused by deprivation of oxygen. Asphyxia can lead to permanent brain damage or, in severe cases, even death [1].
The World Health Organization (WHO) estimates that between 4 and 9 million newborns globally suffer from asphyxia each year, leading to an estimated 1.2 million deaths and more than a million infants developing severe disabilities. WHO also estimates that 29% of global neonatal deaths are caused by birth asphyxia [2].
Fetal scalp blood sampling is considered a useful fetal monitoring tool by expert bodies to prevent neonatal morbidity and mortality.
When is fetal scalp blood sampling indicated?
Which parameters are important to measure: pH, lactate or both?
Why is sample volume important?
What is the best fetal scalp sampling technique?
How can medical professionals ensure fast turnaround time?
What do your national guidelines indicate and how do they compare to guidelines around the world?
Get the answers in Chris Higgins' article 'Fetal scalp blood sampling', published on acutecaretesting.org or go to the site to subscribe for more clinical and scientific news.
Improving outcomes with the NeoOne solution
In the delivery room, fetal scalp blood testing is performed to assess, with high specificity, birth asphyxia as a consequence of impaired oxygenation. This condition is a threat to the fetus and may require immediate intervention [3].
Radiometer's unique NeoOne solution, which includes the advanced ABL90 FLEX PLUS blood gas analyzer and safeCLINITUBES plastic capillary tubes, provides immediate results on critical parameters such as pH and lactate from a very small sample volume, optimizing the safety of both mother and fetus.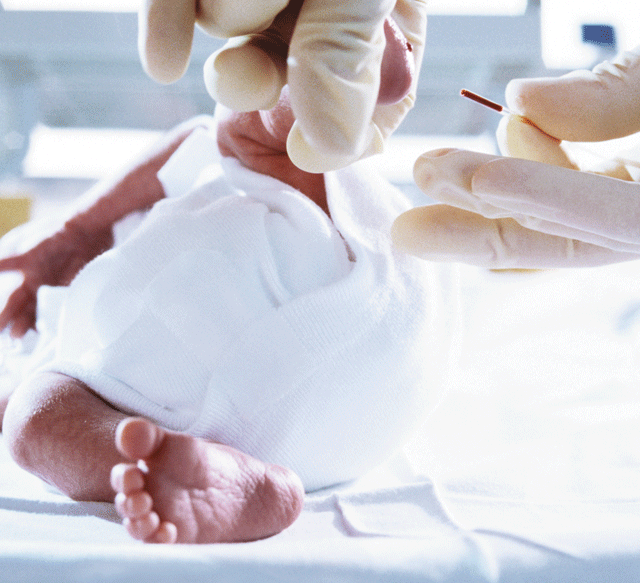 Fast results from a 45 µL blood sample means medical decisions can be made quickly
Obtaining sufficient blood from the fetal scalp can be a challenge. With Radiometer's ABL90 FLEX PLUS blood gas analyzer only 45 µL of blood is required to run a sample. Analyzing a capillary blood sample on the ABL90 FLEX PLUS analyzer is done in a simple 2-step process – and the results are available in just 60 seconds.
Radiometer's safeCLINITUBES plastic capillary tubes are pre-heparinized with high-concentration sodium heparin to prevent the blood sample from clotting. The safeCLINITUBES are designed to reinforce the capillary actions of the tube to enable fast and easy filling.
Higgins C. Fetal scalp blood sampling. www.acutecaretesting.org. Dec 2014.
Omo-Aghoja L. Maternal and fetal acid-base chemistry: a major determinant of perinatal outcome. Ann Med Health Sci Res 2014; 4,1: 8–17.
Kenyon S et al. Intrapartum care: Care of healthy women and their babies during childbirth. London: RCOG Press; 2007.